A Few of our Past Chocolate Point Kittens

These kittens are no longer available.
07-14-14, Testimonial from Anne: "I recently had the good fortune of discovering KingdomKatz online. Based on the level of detail outlined on the website, as well as the many excellent, professional photographs of the available kittens and previous champions, I knew this was a high-quality cattery. Upon inquiring about a particular kitten, my impression was confirmed by my correspondence with Allyson Paruzynski, the breeder responsible for these outstanding felines.

Allyson takes time to screen potential owners with a series of questions, and within several days, we agreed upon the purchase of a precious McTabby and While bicolor Persian kitten. I live in the Chicago area and was able to drive to pick up the kitten and meet Allyson in person. My respect for Allyson continued to increase as I was introduced to two of her kittens. They were absolutely beautiful and immaculately groomed. In all our interactions, Allyson was extremely professional, knowledgeable and utterly meticulous. However, it was after I spent several days with my new kitten that I truly admired Allysonís work. My kitten is not only physically gorgeous, he is curious, affectionate, sweet and highly-intelligent. The price I paid for him is worth every cent as I have an animal with an incredible temperament that is a true and loving companion.

As a professional who works each day, I learned quickly that leaving my new kitten at home by himself was going to be tough on us both. Within several days of living with him, I called Allyson and asked if the second, pure White Persian kitten were still available, and the next week-end, I returned to Rockford to bring home my second KingdomKatz kitten. I am so happy with my decision. I now have two marvelous kittens to enjoy and enhance my life. They each have their own, unique personalities and each one is a pure joy. I have extremely high standards in both my personal and professional lives. Working with Allyson Paruzynski and KingdomKatz exceeded my expectations in every way. I whole-heartedly recommend her." Anne D. of Chicago, new mom to Sean & Kai More photos of Sean

Additional Photos of Lord Silenus

Our dear, sweet seal point Himalayan cat (not purchased at KingdomKatz) was 10-years-old and we had to put him down due to the deadly disease, PKD. After our deep mourning, I began looking for catteries that sold Himalayans and those that were also recommended by The Cat Fanciers' Association. I looked hard to find kittens that were not extremely peked-faced and was lucky enough to come across the KingdomKatz website. That first day I emailed Allyson, she immediately responded. She didn't ask for a deposit to be placed on a "paid waiting list." Instead, she asked for detailed information about our family, current pets, home and lifestyle. She then gave us so much educational information about her cattery, her kittens, her breeding philosophy and what she was ultimately looking for in her adoptive families. It was clearly not a business, but a labor of love and her passion. I was so thrilled that she had the exact kitten I had been searching for, a chocolate point Himalayan. She sent us detailed information about him. His name was Lord Silenus (renamed Ziggy). She had more than a dozen of the most adorable photos of him, shot from all angles, not just his front side. You could clearly see his full body, arms, legs and tail. He was purrfect! When the time came for him to fly to us, we felt like we already knew him. It is evident that Allyson and her family truly love and pamper their kittens before they go to their 'forever' homes. He was purring and kneading his blankie when he was handed over to me at the airport cargo depot. I expected a petrified, shaking little kitten in the corner of his carrier, but he was totally calm. Even though he had traveled a long way, he didn't have one 'accident'. He tolerated the whole trip like an experienced world traveler. On his first vet visit, the doctor said that Ziggy was without a doubt the best chocolate point he had ever seen. Structure of the head, ear placement, over all sweet look, body shape, coat and markings were just beyond what he had seen. He said the breeder really cares and knows what she is doing. He is SO precious. His pictures don't do him justice. He is absolutely breathtaking. You talk to him and he purrs. You pet, hold or cuddle him and he purrs. You just look at him and he purrs. He is so happy. He's been playing and exploring since he came in the door. He doesn't run and hide under the furniture, but comes right to you when you call him and he's eager to play.
Ziggy has such a sweet, loving personality, which we attribute totally to Allyson and he is now passing Allyson's love onto us. He has melted our hearts. My husband said, "He's a little slice of heaven." Thank you so much for allowing us to adopt this delightful, little angel. Sincerely, The Creath Family - Missouri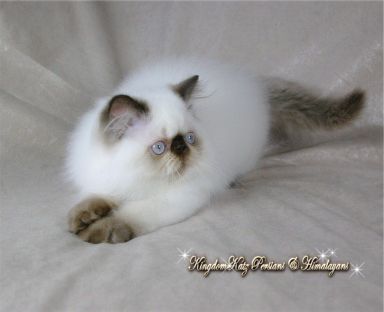 Additional Photos of Lord Erlian\

Thank you so very much for everything you did in making our purchase so enjoyable! From start to finish, you were professional and extremely knowledgeable, and did all that was possible to accommodate our every wish. You understand that getting a new pet is actually a search for just the right family member that will fit in with children and personalities.

I was extremely impressed from the moment we first spoke. You spent the time to help me understand the process thoroughly and to answer each and every question, evidenced by our many emails back and forth. I appreciated your honesty and straightforwardness in all our communications.

When we received Lord Erlian, he was absolutely beautiful and looked to be in show condition from his spa bath! Our children were so excited and feel so very lucky that he is now part of our family. Thank you again Allyson, for being a delightful and professional person to work with. Without question, we would recommend you to our friends and relatives.

Best Regards,

The Erharts

- California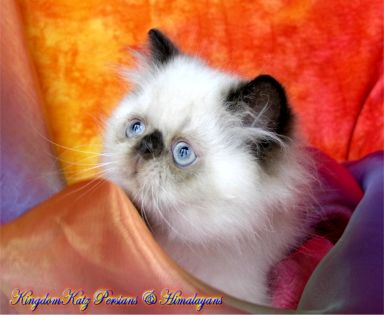 "Hello! King Louie is Wonderful!!! He is such a Character! He is always looking to have fun and is so sweet. You sent a wonderful kitty. So very pleased I chose a kitty from you! He's the sweetest and most affectionate cat you will find! Thanks so much!" - Angie W of Idaho
More Photos of Gorgeous King Louie.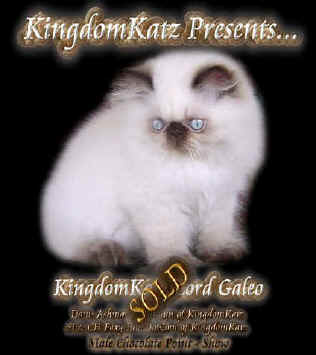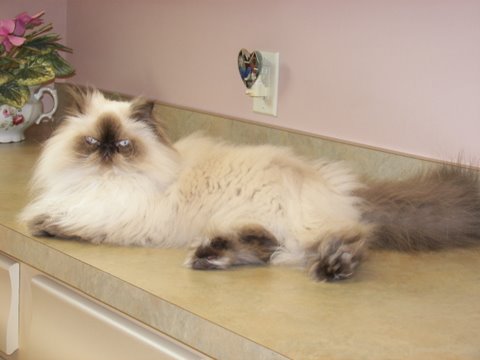 "Hi Allyson, thanks for the info on litter. I have the Best Cat ever Born, bar none. I give THANKS every moment for YOUR kindness to Me for sharing LORD GALEO with Me. HOW you ever let this cat be sold, I will never know. The only thing I can think of is if all your KATZ are this wonderful. He is the most LOVING, KIND, WELL BEHAVED, BEAUTIFUL, SMART CAT that ever lived. Every morning at 5:00 AM He is at my face, Purring and Rubbing his whiskers on MY face, He will hardly let me out of his sight, loves to play, runs throughout the house, & truly has Me spoiled. He is the KING of this home, no mistake about this. May YOUR LOVE & INSPIRATION touch others as it has Me. Your Friend, JO & JOHN" - West Virginia