A Few of our Past Seal Point Kittens

These kittens are no longer available.
"I chose KingdomKatz after researching online for weeks for the perfect cattery. I recently lost my beloved cat due to PKD and never wanted to repeat that experience again. It was very important to me to find a cattery that was highly recommended. I feel I found that with Allyson. Her kittens are absolutely beautiful. I adopted Bravo, now named Bentley, and he very quickly stole my heart. Not only was he the most adorable kitten, but also had the most lovable personality. I picked up Bentley at her home and Allyson made the experience so enjoyable. She answered all my questions and even gave me a grooming demonstration. I also received informative and detailed instructions on caring for my new family member. I was so pleased with Bentley, I quickly decided I needed to adopt another kitten for him to play with and knew just who to call. Luckily I was able to bring another beautiful kitten home just 4 weeks later. I am so very happy I chose KingdomKatz." The Lewis Family, 2014 More photos of Bravo

"We picked up Teddy about 7:40pm the plane was a little late from Houston. He was settled in his cage and looked quite comfortable. I said his name a couple of times and he came to the front of the cage. The attendant said that was a very good sign. Anyway he is just beautiful. Sat in my lap the whole way home purring. Love those blue eyes. I know you have to miss him but he is in good hands and we will take great care of him." Kind Regards, Sharon of Colorado

Update: Teddy is just fine and adjusting to life in Colorado. He loves to play and to be held. I think he is very happy- likes to ride in the car - looks out the window -sits in my lap. My son wants to take him but that is a no! Jack and I are very happy with him and his personality - he makes us laugh with some of his antics. More Photos of Teddy

"Allyson, I want you to know your two babies are loved, pampered, and cherished! They are the love & joy of our lives! They are always together, grooming each other, sleeping together, and allow each other 'first dibs' on chow! I hurry home to play with them, hug, and kiss them. They were a huge attention getter at the vet's office too! The ooh's and ahh's were deafening! So, with that, Allyson, mother-to-mother, I most sincerely give you my appreciation and thanks for allowing our house to now feel like our Home!" - Kathleen of Illinois - new mother of Houston ( a.k.a Seamus) and his sister, Alexandria(a.k.a Cosette)

"Falco is doing Fabulously! He is a good boy! He is a very energetic, curious kitten. After about four days we started to introduce him to one level of the house every two days. Falco decided this process was too slow and he ran as quickly as those little legs could carry him throughout the house by the second day. He is very fun and entertaining. He loves to run into the bathtub, I think he is telling me "I'm a show cat, it's time for my bath silly woman!" I was filing my daughter's nails last night and he crawled into my lap and enjoyed pretending to get his filed too. I could go on and on. Most importantly, he is doing great, eating well, and fitting into our family nicely." Donna of Illinois.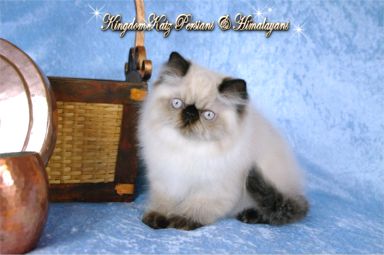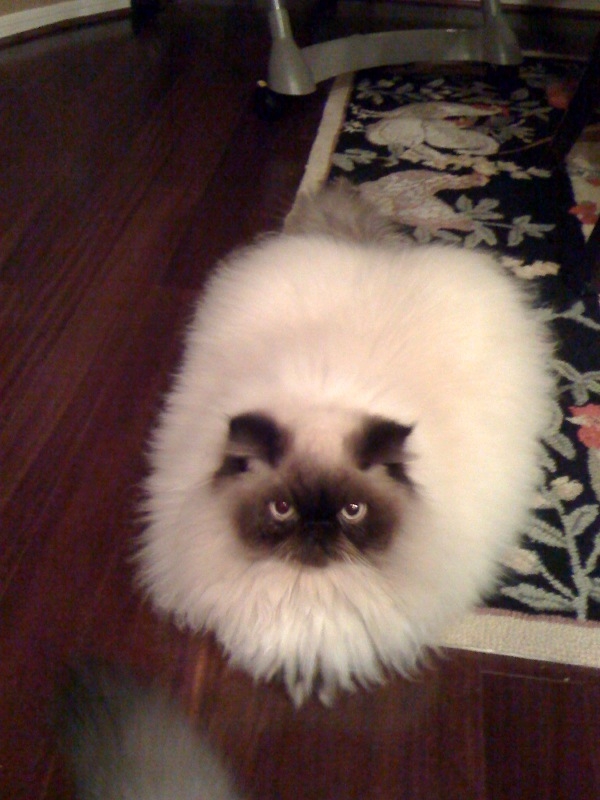 "After doing a lot of research on breeders before getting my Himalayan, I made the decision to work with KingdomKatz and it was one of the best decisions I have ever made. Throughout the whole process of working with Allyson, from my beginning questions and concerns to actually having sweet little Hillinger (aka Vinny) delivered, I found her to always be honest, helpful and extremely informative. I was always made to feel comfortable no matter what my question. She went above and beyond in all aspects of the process and truly demonstrates a love for what she does. She is the consummate professional when it comes to breeders and I would never hesitate to recommend KingdomKatz." Lynn of AZ. (Thank you, Lynn!)
Update: I wanted to send you a photo of Hillinger because he is now 1 year old I believe this May (I need to look at the papers again). He is as awsome as always - a good gentle boy who absolutely adores Aravis. He cleans her up and takes good care of her when they are not running around playing. Remember how nervous I was when I brought her home and he was being weird?!! That behavior is gone and now Aravis can hold her own and honestly I think may be the more dominant of the two - at least I notice that when I put the two bowls of food down for them -she will nudge him out of his bowl to eat and make Hillinger move over. She's half his size - it's pretty funny. I can't tell you how great Aravis is -- she is absolutely adorable - everyone that sees her falls in love with her. She is social, loves being by people. Her face is just too cute.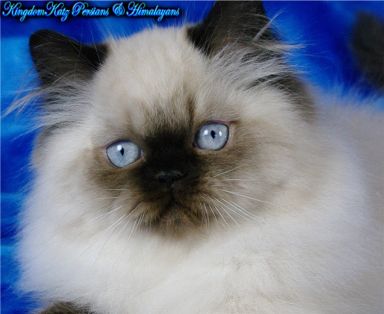 " LOVE, LOVE, LOVE, LOVE, LOVE, LOVE, LOVE, LOVE, LOVE, LOVE, LOVE, LOVE, LOVE, LOVE, LOVE, LOVE, LOVE, LOVE, LOVE, LOVE, LOVE, LOVE, LOVE, LOVE, LOVE, LOVE, LOVE, LOVE HIM!!!!!! Oh, my gosh!! He was beautiful on-line, but even better in person (or cat)LOL. The air attendant that brought him through the door said he had been yelling to get out of the cage for awhile. On the ride home he meowed a couple of times, but as soon as I got the scissors out to cut the plastic to free him he started purring before I could even get him out of the cage. He already is running and jumping into the little wal-mart cat tent with attached scratching post. I put his kitty blanket inside, which he is already laying on. It is as if he has been here forever! He is such a mush ball in your arms. I really can't thank you enough for letting us adopt him. I can't wait for the kids to see him in the morning. I can't thank you enough. He is exactly what I wanted. Thank You!" Kathleen M. of Albany, NY.

Update: "Dear Allyson,

I am writing to you to thank you so much for Lord Bacchus (now aka Sir Fluffy). Our family loves him so much. I had wrote you the first time the night I got him off of the plane. We love him even more now! To be honest I was a little intimidated to learn how to groom a Himalayan as I have never owned a cat I would need to bathe. How precious he is...I followed your written instructions that you sent when I purchased him, which were extremely helpful. As you comb him before his bath to make sure there are no mats he actually lays down and lets me flop him every which way. I even pull his arms up in the air as he lays on his back to get every inch of him combed out. He just lays there and purrs!! I couldn't believe it, I wish I knew how to attach videos to emails or I would, because unless the person owns one of your cats they would not believe it! :) I braced myself for the worst when I put him into the tub and turned the water on. I figured for sure that I would end up with at least one to two large scratches from him before we finished. Instead he NEVER put his claws out once. He meowed once or twice, but other than that let me shampoo him all up. When it came time for drying him I once again wondered what he would do with the roar of the blow-dryer. Once again, I was shocked and pleasantly surprised that he allowed me as much time as I needed to get him to be the beautiful fluff ball that he is! I did not have to hold him down he just pranced back and forth in front of me allowing me to comb and I dried. This has not been a one day scenario either. I have given him multiple baths now and he is the same each time. He is absolutely amazing! I read an article the other day that said, " once you live with a Persian or Himalayan you will never want to be without one again." I know exactly what they are talking about. The other thing I have to praise you on is the use of his claws. Part of your contract has your customers agree to not declaw. To be honest you would think that he is declawed as he NEVER, EVER uses his claws. He hasn't touched the furniture since I brought him home. He is also wonderful on not getting on our furniture. He LOVES attention so one of us usually always has him on our laps anyways, but if you are a family who doesn't like your pets on your furniture you have done a wonderful job training them. He meets us at the door when we come home, he follows the kids around from getting PJ's on at night to brushing teeth. I always bring him in to tell the kids good night and I say, "Tell Isabelle and Tyler good night Fluffy" and he will meow at each one every time just like he knows. (I know people think I'm crazy, but the kids love it and won't go to bed until I bring him into there room if he is missing. He's usually close on the trail though.) The last thing that I would like to add is how wonderful you are Allyson. I had a small litter box cleanliness issue and you immediately responded to me with multiple ways to help. You are extremely knowledgeable in what you do and have a wonderful personality to work with! I would recommend you in a heartbeat. Sir Fluffy will keep you updated! I can't thank you enough for letting us adopt him. He is so wonderful and such a clown to watch play. I can't thank you enough and I will write again soon!

Sincerely, Kathy M. and Family of Sir Fluffy (aka Lord Bacchus)
Note from Ted & Cindy - Parents of Mickey Blue Eyes

"Man, he looks GREAT.. He's something else "Terrific". You spent a lot of time on him and it shows. I'm sure Cindy told you he sleeps on my pillow, it drives her nuts because she wants him next to her. It's really funny, because he's her cat, right! It's so her baby, she puts him first always, its cute though. He's a little fur ball and the family loves it!"

More Photos of Mickey Blue Eyes

"He is such a wonderful part of our family - everything we hoped for and more! Thank you again, Laura"

Click here to see more pictures of TreyZure